The Chesapeake Sheriff's Office offers pre-employment physical agility testing. Please check this site periodically for employment opportunities.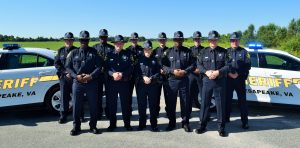 Do you have what it takes to join the Chesapeake Sheriff's Office?
We are looking for men and women who are good leaders, motivated professionals and pride themselves in helping others. We are looking for aspiring deputies who are willing to work hard to learn the necessary skills for this challenging, but critical role in law enforcement.
Salaries & Benefits
Starting Salaries
$40,178* (while attending the Chesapeake Law Enforcement Training Academy) Upon successful completion of the Chesapeake Law Enforcement Training Academy: $42,361* for possessing a High School Diploma or GED $42,961* for possessing an Associate's Degree ($600 yearly stipend) $43,261* for possessing a Bachelor's Degree, or Master's Degree ($900 yearly stipend) (*subject to change)
Benefits
Virginia Retirement System (VRS) participant
Annual Leave & Sick Leave
Life Insurance
Health Insurance
Dental Insurance
Flexible Spending Account
Uniforms and Equipment Provided
Long and Short Term Disability (optional)
24-hour Gym Access
Eligibility Requirements
Must be a United States citizen.
Must be 21 years of age upon graduation from the academy.
Must have a high school diploma or GED certificate.
Must possess a valid driver's License.
Must have no felony convictions or any convictions involving acts of domestic violence, dishonesty, deceit, or immorality.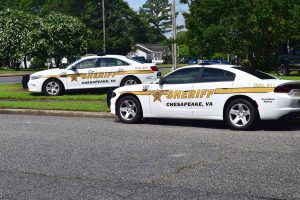 How to Apply
Step 1: Physical Agility Test
When the Chesapeake Sheriff's Office is hiring we will post physical agility testing dates on our Facebook account and website. To register for the test, call (757) 382-6159, option #1 during normal business hours. Within a week of the test, applicants will receive an email with testing details and more information. Upon receipt, applicants should confirm their reservation. Physical ability testing for the position of Deputy Trainee will comprise of four different testing modules: Physical Agility Course, Push Ups, Sit Ups, and a 1.5 Mile Run. Description of the Physical Agility Test This test is an un-timed obstacle course consisting of the following tasks: While in a sitting position you will be given a suspect's description. At the word "go" you will:
Run 25 yards
Jump over a 3 ft. simulated ditch
Run 25 yards
Climb over a 5 ft. high obstacle (wall)
Run 10 yards
Crawl under an obstacle 24 inches high and 10 feet long
Run 25 yards
Climb up and down a standard step for 12 repetitions
Run 15 yards
Crawl through a window
Run 10 yards
Identify the suspect (figure) from previous description
Run 15 yards
Drag a 150 lb. dummy 5 yards
Run 20 yards
Place the barrel of an unloaded firearm through a 6-inch diameter hole and fire the weapon one time strong handed and one-time weak handed. The weapon will then be placed back down. Time will then be stopped.
Automatic Disqualifying Factors
Certain suspensions or revocations with your driver's license within the past 24 months (2 years).
Conviction of DUI (alcohol or drugs) within the past 36 months (3 years).
Conviction of reckless driving within the past 36 months (3 years).
Conviction of speeding 20 miles per hour or more within the past 12 months.
Three or more convictions involving any moving violation within the last 12 months.
Conviction of possession, manufacturing, and/or distribution of illegal drugs.
Use of Cocaine, LSD, PCP, or any type of hallucinogenic drug within the last five (5) years and/or use of Marijuana within the last three (3) years
Other Than Honorable (OTH); General; Dishonorable discharges from any military service. Uncharacterized discharges will be evaluated on a case-by-case basis. Candidates discharged for "conduct" reasons will not be considered.
Untruthfulness or the withholding of pertinent information on any application, interview or paperwork associated with the application process (omission of requested information in your Personal History Statement may disqualify you from further consideration)
Cheating on any examination or testing associated with the position.
Physical and Dexterity Requirements
Requires work that involves walking, running, standing, stooping, jumping, or lifting much of the time, involves exerting between 20 and 50 pounds of force on a regular and recurring basis, and exceptional skill, adeptness, and speed in the use of fingers, hands, or limbs in tasks involving suspect restraint, firearms, and other law enforcement duties.
Step 2: Written Test
Upon successful completion of the Physical Agility test, applicants will take the LESI exam. LESI is a written personality test designed to gauge how an applicant would react in various situations.
Step 3: Application Packet
Applicants must fill out and return application packet in a timely manner. The packet includes a personal history statement. Do not leave any information out. Omissions and untruthful responses will result in your disqualification.
Step 4: Background Investigation
Applicants will undergo a detailed background investigation. Applicants will meet with a department background investigator at least once to go over the information in your Personal History Statement. Applicants who successfully pass the background investigation will move forward in the process which includes background interviews, a polygraph, urinalysis, and a jail tour.
Step 5: Administrative Interviews
Interviews with the Command Staff and a final interview with Sheriff Jim O'Sullivan.
Step 6: Physical Examination
If offered a Deputy Sheriff or Deputy Sheriff Trainee position, you must successfully complete a physical examination.