MAIL
Incoming mail must have the legal name of the person you are writing under which he or she was arrested and booked. You must include the inmate number and the housing location of the individual you are writing. All mail (except legal) will be opened and inspected for contraband prior to being delivered. Mail that contains obscene pictures or material deemed to be a threat to safety and security will be returned to sender. There is no limit to the amount of correspondence that an inmate sends or receives. NO greeting cards of any type are allowed.
INMATE TELEPHONE SYSTEM
Inmates have access to telephone service in all general housing units of the Chesapeake Correctional Center. Telephones are accessible from 8:00 a.m. until 11:00 p.m. daily. Friends and Family can set up a pre-paid telephone account with the telephone service provider by calling 888-506-8407 or by visiting their website at www.icsolutions.com.
COMMISSARY
The Chesapeake Correctional Center provides access to commissary services through an outside vendor.  Inmates are permitted to make one commissary order up to $75 per week. Inmates must have sufficient funds in their commissary account to fill an order.  To place funds in an inmate's account, persons may access the commissary vendor accounts in several different ways:
Deposit online at: inmatedeposits.com
Deposit by telephone at: 1-866-345-1884
Deposit using Kiosk machines located in the lobby of the Chesapeake Correctional Center, 400 Albemarle Dr., Chesapeake, VA 23322
Mail a POSTAL money order only to: Keefe Commissary, 400 Albemarle Dr., Chesapeake, VA 23322.  Personal checks, cash, and two-party checks are not accepted. 
HOW TO DEPOSIT MONEY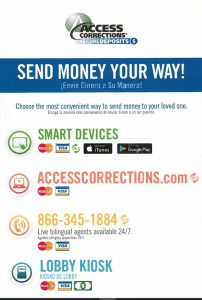 FOOD SERVICE
The Chesapeake Correctional Center employs the services of a professional food service vendor.  Through dietetically-designed diets, inmates are provided healthy, well-balanced meals daily. Additionally, persons outside the Chesapeake Correctional Center may purchase optional food items to send to their incarcerated person by accessing https://www.commissarydeposit.com/
MEDICAL/MENTAL HEALTH SERVICES
The Chesapeake Correctional Center provides access to professional health care 24-hours a day through an on-site medical contractor.  Inmates are evaluated and screened when they enter through Booking.  In addition all staff and inmates are trained on PREA (Prison Rape Elimination Act). Also,the Chesapeake Correctional Center provides a dedicated medical housing unit, mental health counseling, dental care as part of health care wellness, and access to medical staff through sick call.   The following medical services are free:
Physical screening on admission
Dental screening on admission
Follow-up visits requested by medical staff
Mental health screening
Preventative/continuing treatment for documented chronic problems such as diabetes, hypertension, HIV, TB, seizures, etc.
Sexually transmitted disease testing and TB screening
The following medical services require a co-payment:
Sick call
Doctor visit
Dentist visit
Prescriptions
Medical care is never refused to an inmate.  Inmates who do not have funds in their account are seen by medical staff and a negative balance is applied to their account.  When a deposit is made, the negative balance is deducted for the medical services rendered.
Prescription medications received during the Booking process must be verified prior to any dispensing.  Any medication brought into the Chesapeake Correctional Center that is unable to be verified or is not properly labeled is disposed of.