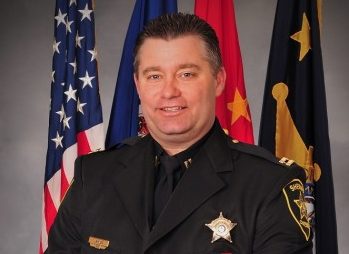 WVEC-TV highlights Captain James' time at the FBI Academy
QUANTICO, Va. (WVEC) — Quantico is the home of the Federal Bureau of Investigation's Training Academy. That may not come as a surprise, but what you may not know is that people at Quantico train law enforcement officers from Hampton Roads. That training one day could help them lead our local departments.
During our visit to Quantico, 13News Now talked to Capt. William James III from the Chesapeake Sheriff's Office who was part of the National Law Enforcement Academy which focuses on leadership development.
"This has forced me after 29 years to put me in a place, if I would never have had this opportunity, I'd have never been out of my realm," said James.
When we met the captain, it was Week Four of the academy. There was an emphasis on physical fitness, nutrition, and lifestyle lessons, but James told 13News Now he also developed new perspectives.
"Being able to be with some of my fellow law enforcement officers, people from big cities and also people that have done a lot and also to learn from the FBI, have real experience of what they go through because we don't have that much contact with them from day-to-day," he explained.
"The people that come to us are already in positions of leadership within their organizations, but they're not necessarily at the pinnacle of their career," said Jeff McCormick, unit chief for the academy, "so when they come in and they sign up for these classes and they take these classes, the instructors will challenge them."
McCormick explained that 50,000 people have come through this program, people from 170 countries who have learned from each other during their time at Quantico.
"We want them to talk about their successes," McCormick told us. "We want them to talk about their failures and then when they go back to their home departments, they've got not only their own experiences but all these experiences that they've heard and talked about and shared here at the National Academy," McCormick noted.
We checked in with James at the Chesapeake Correctional Center to find out how his training at Quantico affected what he does here at home.
"It's a 24-hour operation," James shared. "It's like an aircraft carrier. Start at one end and all day long things keep on rolling."
James, who currently is in charge of the correctional center, has worked almost every position in the sheriff's office.
"I try to go back in the jail as many times as I can and go see my staff so they realize that you always got to lead from the front," said James. "They've got to see you. If I don't care, the lieutenant doesn't care. If the lieutenant doesn't care, the sergeant doesn't care. What I hope that they get from me is that they see the difference in my leadership style."
James told 13News Now he continually thinks about the lessons he learned at the National Law Enforcement Academy.
"The biggest thing I'm keeping in my mind is I got to stay transformational and ahead of the curve," James said. "You can never sit back and not move forward, and I have to stay active so my people will stay active."
The correctional center has more than a thousand beds and is expanding. There are medical and mental health concerns, inmates going out into the community on work- release, and citizens coming into the facility for visitations. James hopes what he learned at Quantico will help keep all those elements at the correctional center moving together and moving forward.
"We're going to protect our area, and that is really important to me," James told 13News Now. "We're going to help each other. The citizens count on us; they don't always know what we do, but they count on us to do our job."
Click here to watch the full story.